To all my Chinese readers
中秋節快樂,
To all my English readers Happy Mid Autumn Festival/Mooncake Festival/Moon Festival!!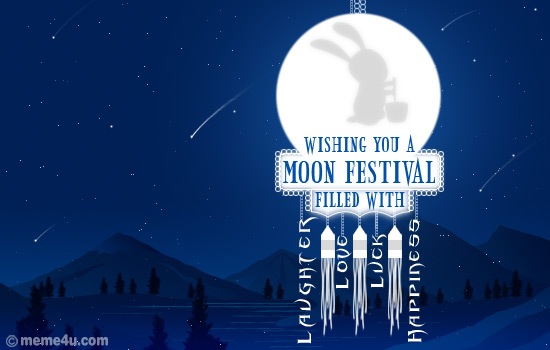 i do not own this picture
So for those who do not know what this is all about well on the 15th day of the eight month of every year of the Chinese/Lunar calender we celebrate the Moon Festival. The moon during this time is always round and full which is just simply gorgeous to look at.
i do not own this picture
I have been celebrating this festival for as long as i can remember and traditional we would eat our moon cakes[月餅]
, have our family dinner (all members must be present!) and at the end play with lanterns [
燈籠]
and/or melt wax! But now a
s i get older i started to stop playing with my lantern as much and overall stop with the candle burning to make a wax plate. Nevertheless, i continue to eat my mooncakes and enjoy dinner with my families and friends.
i do not own this picture
I love eating the one and only Kee Wah's mooncake cause they make it nice! HAHA! We always buy the ones with the double salted yolk in them but i don't eat the yolk because i don't like it? So why not buy the one's without yolk, well simply because they just don't taste as nice as the ones that were bake with the yolk in them!! Here's a short story i want to share with you guys about my friend and her first mooncake
"I bought mooncake to school one day and my non-asian friend has never heard of it before so i decided to give her some to try and since then she has been buying her own mooncakes each year because you usually can buy them in September which is her birthday month!"
i do not own this picture
This year half my family is in Hong Kong and they celebrated the Mid Autumn Festival with my relatives as they went to a all you can eat buffet at
JW Marriott Hotel

. As for my mum, younger brother and i headed off for dinner at my mum's friend's place!
We only stayed for dinner as my mum was not feeling so well. But dinner was really filling, we had chicken, vegetables, lamb chops, sashimi, steamed fish, mapo tofu and tempura prawns!
Now i'm at home just drinking some green tea and munching on some moon cake while watching Runningman and laugh my night away~.
So just before i end this post i just want to let you know that i'm on NuffnangX.com so follow me there!! You can get the first notices of new blog post entries and it is so much more easier to comment to me too! Of course you can still follow and comment here as usual too but now i'm off to watch some runningman!
Good night and i hope you all had a lovely night!!
Also i've uploaded a few photo's from yesterday and today on my INSTAGRAM: LAZYPANDAH !!
Comments are love ♥