Now I know Valentines day is long gone but for my readers up in the northern hemisphere, Spring is finally here! Spring is the season of love, life and new experiences, so I thought I'd share my favourite romance genre anime's that I've watched in my life! I especially enjoy romance comedy, so a lot of the anime below will focus on this particular genre.
1. Ore Monogatari / My Love Story (2015)
This is definitely one of my TOP favourite anime of all time! It is a delight to watch and even my male friends loved how chill, funny and cute this anime was. It really touches on the topic of having a boyfriend/girlfriend for the very first time and how their relationship develops. I highly recommend this if you want to start getting into rom-com anime's!
2. Kaichou wa Maid-sama /Maid Sama (2010)
I can't believe it has been 7 years since this anime was released! I guess it is kind of considered a classic for many people when they think of a rom-com anime. This anime had those ultra cute scenes which will only ever happen in drama's or anime! I just loved how Usui never forced Misaki to accept his feelings, but instead showed her how he felt.
3. Ouran Koukou Host Club / Ouran High Host Club (2006)
Wait what! This anime series is 11 years old already! Anyway Ouran was another funny and cute romance anime~ I loved how each and every character had their own way of expressing their love to Haruhi and to one another.
4. Gosick (2011)
Now this one is not much on the comedy side, but the love that develops b
etween

Victorique de Blois &

Kazuya Kujou is interesting. I would recommend this anime if you're interested in mystery and puzzle solving!
5. Kamisama Hajimemashita / Kamisama Kiss (2012)
I loved this cute little series! Love between a spirit and human has always been an interesting topic, as we all know that it is always forbidden. The absolutely love fantasy , especially when they mix humans and spirits together.
6. D.N.Angel (2003)
Now this is an oldie but to me, its a goodie! Daisuke and Riku was my favourite couple for such a long time! Once again its fantasy related too!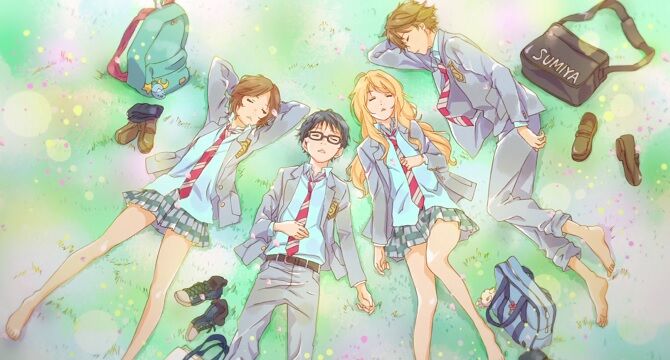 Now there is a heap more of romance anime's I absolutely love, such as Sailormoon, Card Captor Sakura, Inuyasha, Sword Art Online, Shigatsu was Kimi no Uso Wa and 5cm per second. I also haven't watched Kimi no Nawa (Your Name) yet! but I heard its amazing!
[06032017]
Good morning everyone~ I hope you all had a lovely weekend while I was on a eating spree with my family and relatives. I've been looking into a few video and blog post ideas and I cannot wait to share it all with you guys!