Now I love food...food is life! It's basically one of my life motto's! Even in the anime world, the food there looks amazing and it makes me want to try to recreate the dish myself, which I might do when I have some spare time. But today I'll be sharing part one of my favorite anime food dishes. First selection of dishes are from the anime series Shokugeki no Souma, that I can think of the top of my head, as there will definitely be more to add onto the list.
Temari Bento
This dish was made by Alice Nakiri, where she presented her bento whil maintaining the sushi's temperature when being revealed, all that to liquid nitrogen.
It looks like an edible jewelry box!
Below is the sushi's in order from left to right, row by row:
- Abalone (pressed in kombu) with kombu dashi espuma (foam)
-
Sea urchin with kombu dashi espuma
-
Salmon roe
-
Cured bonito
-
Pumpkin wrapped sushi cake with sprout vegetable
-
Beetroot wrapped sushi cake with edamame
-
Nozawana (sushi rice wrapped in pickled nozawana leaves)
-
Zucchini wrapped sushi cake with corn
-
Cured beef fillet with wasabi
-
Cured beef fillet with wasabi
-
Cured beef fillet with wasabi
-
Sea bream chazuke - Sea bream on a lotus flower with coagulated dashi & tea topped with kinome leaf.
I have some serious sushi craving just writing this up!
Roast Pork, Just Kidding (also known as "Pseudo Roast Pork")
This was one of the first few dishes that we saw Souma make when the series first started, and it honestly made me drool! Plus the reactions from the urban developers were quite hilarious.
I've seen a few video's of people recreating this dish because of how simple it is and I can't wait to try making this myself.
Improved Three-Layer Semifreddo
The originally was Takumi Aldini's dish however Subaru Mimasaka recreated this dish using his ability "Perfect Trace". He improved the flavors and texture of the dish. I wouldn't mind having this with my tea right now~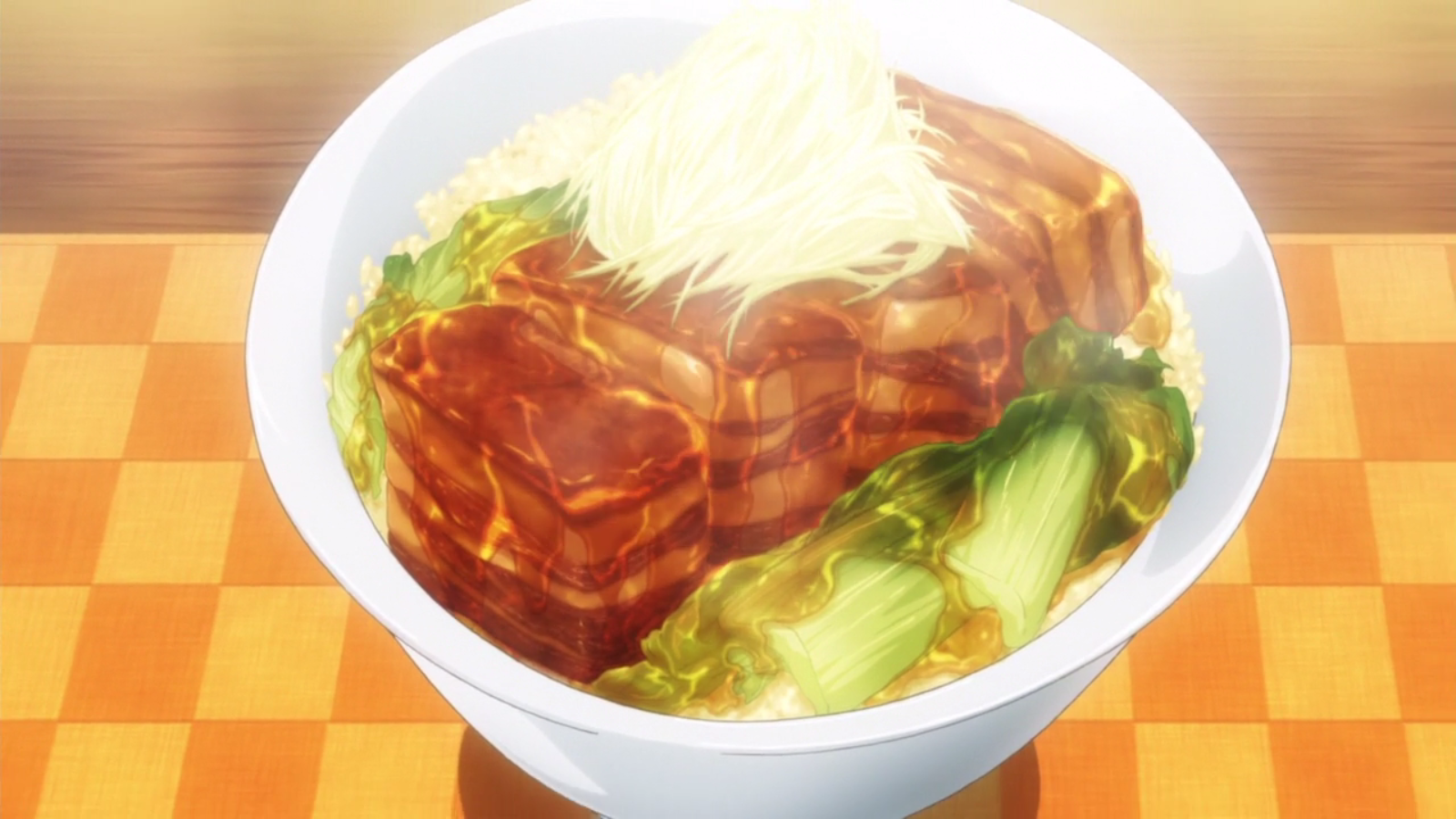 Dongpo Pork Curry Don
This dish was created by Ikumi Mito and this curry dish is named after the legendary Song Dynasty poet, Su Dongpo. The dish is grease-free and also maintains both the sweet and spicy flavors in the meat and rice.
Time Fuse Mapo Curry Noodles
This dish was created by Souma during the Moon Banquet Festival to combat against Kuga Terunori in sales. The dish has 3 main parts; the noodles, mapo tofu and curry filled meatball.
The curry filling of the meatball is made from beef bones, several curry spices, garlic and ginger, with some gelatin mixed into it. There is a full recipe for this dish, which may take some time but I definitely will give this a go as it just sounded so amazing and delicious! Let me know if you'd like me to film a video of recreating this dish!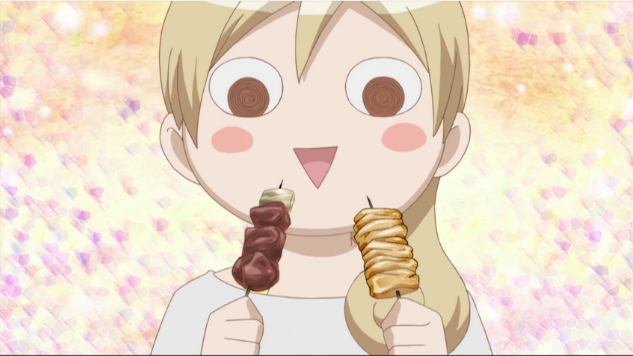 That's all for today folks! There are many more Shokugeki dishes that I will be sharing in a later post but these are the ones I could think of from the top of my head~ Hope you all have a wonderful Monday and if you have a favorite Shoukugeki dish, comment below!