I haven't shared a wishlist blog post since 2016 and thought I'd bring it back starting off with something otaku-related. I've always wanted a Ball joint doll or Pullip doll for the longest of time, yet I still haven't purchased any as I've had other things that I needed to invest in or wanted more than a doll. Some people find dolls creepy but for me I'm not too sure exactly what captivates me when I look at them but I find they have this mysterious beauty to them. Although BJD/Pullips are not a huge thing here in Sydney I still search the net to keep up to date on the next anime character being made into a BJD or Pullip doll.
Below are a few favourites that are on my wishlist and if I did have the spare cash to spend on dolls here are the ones that I would consider getting.
Now if you've been reading my blog in my earlier days you would of seen me mention this doll already, Shinku. Shinku is from the anime Rozen Maiden which is a story about dolls...so you can see my fascination are for both real life and anime dolls! This is the 2014 Pullip Shinku doll and comes with the standard card, stand and key. However the 2014 doll does not come with a detective Kunkun plush or the note that Jun received when he open Shinku,
unlike the 2006 original doll.
If you know me well enough you'll know I love the Sailor Moon series, especially Tsukino Usagi (Sailor Moon), Tsukino Chibusa (Sailor Chibimoon) & Tomoe
Hotaru(Sailor Saturn). As you can see from the above selection they are all Usagi or Chiusa as I absolutely loved how they made these dolls. Sailor Saturn wasn't as cute so I didn't include her to the list unfortunately. However you may notice the teenage version of Princess Lady Serenity which is not an official doll from any brand (yet) but whoever made this one did a fantastic job!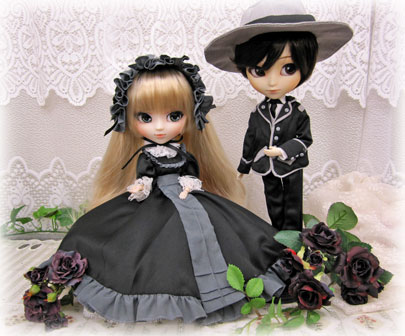 The next doll is Victorique from Gosick. Victorique was incredibly cute and doll-like in the anime so it made perfect sense when she was transformed into an actual doll.
I think the last doll I absolutely love the look of is the Utena Pullip doll. I mean just look at her~ Doesn't she look cute!
Do you have a pullip doll that you own or would love to purchase yourself, if so do let me know what they are in the comment box!