Sydney is now a week into winter and boy is it cold!!! At times like these I wish I was back in Japan soaking up the sun and cooling down with kakigori~ Oh wells...maybe next year~ Anyway, now that it's summer in Japan its time to share my anime watch list that I'm looking forward to watching this season!!!
First off, Attack on Titan season 3 is finally being aired this season and I cannot wait! At the end of season 2 we were left with more questions, especially for me as I haven't read the manga! Definitely looking forward to see what is revealed during this season.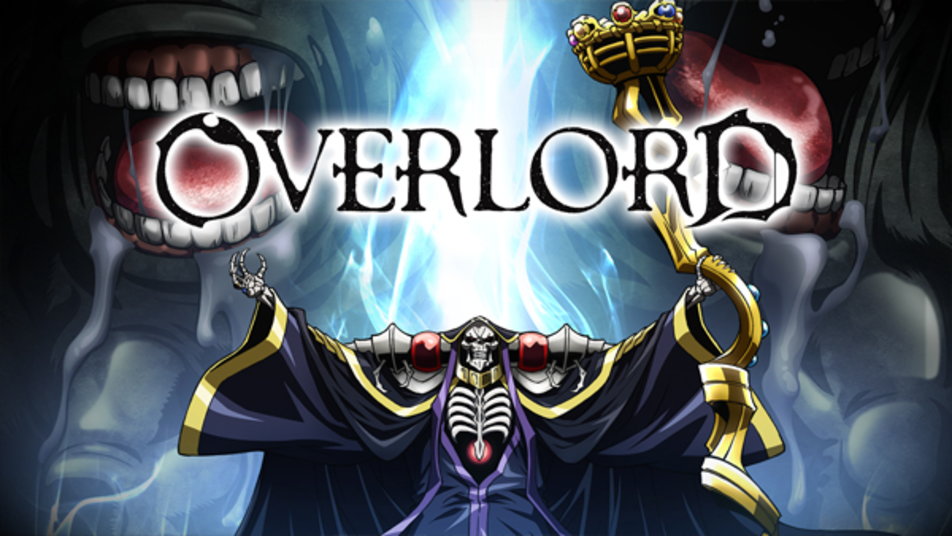 Overlord Season 3, I keep seeing this series pop up everywhere recently~ So I might start this series this season and see how I like it. Have any of you guys watched this series before? What do you think of it?
Free!: Dive to the Future
The Iwatobi Swim club is back! The gang are now in their third year and are still swimming strong! So what challenges will come their way this year? And of course...it wouldn't be summer in Japan with FREE! who else is going to follow the next season?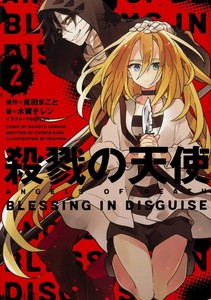 Satsuriku no Tenshi
This series follows a 13-year old girl named Rachel who finds herself trapped in the basement of an abandoned building. Without any memories or even a clue as to where she could be she wanders the building. She comes across a man who introduces himself as Zack who wields a grim-reaper like sickle. I wonder how this series will unfold~
Isekai Maou to Shoukan Shoujo no Dorei Majutsu
Sakamoto Takuma boasted an overwhelming strength that was enough for him to be called the Demon King by the other players in the
MMORPG, Cross Reverie
. One day he is summoned to another world with his appearance in the game. How he got the title well only one way to find out by watching!
A group of 3 yakuza failed their boss for the last time, messing up an important job. The boss gave them 2 choices: honorably commit suicide or go to Thailand to get a sex reassignment surgery in order to become "female" idols. After a gruesome year training to become idols they successfully debut with overwhelming popularity, much to their dismay. This is where their tragedy truly begins. This honestly sounds hilarious and I can't wait to watch this!!!
After losing her grandfather Aoi inherits his ability to see spirits known as ayakashi. One day an ogre appears demanding she pays her grandfather's debt and the price is her hand in marriage.
Refusing this absurd offer, Aoi decides to work at the Tenjin-ya, a bed and breakfast for the ayakashi, to pay back what her family owes.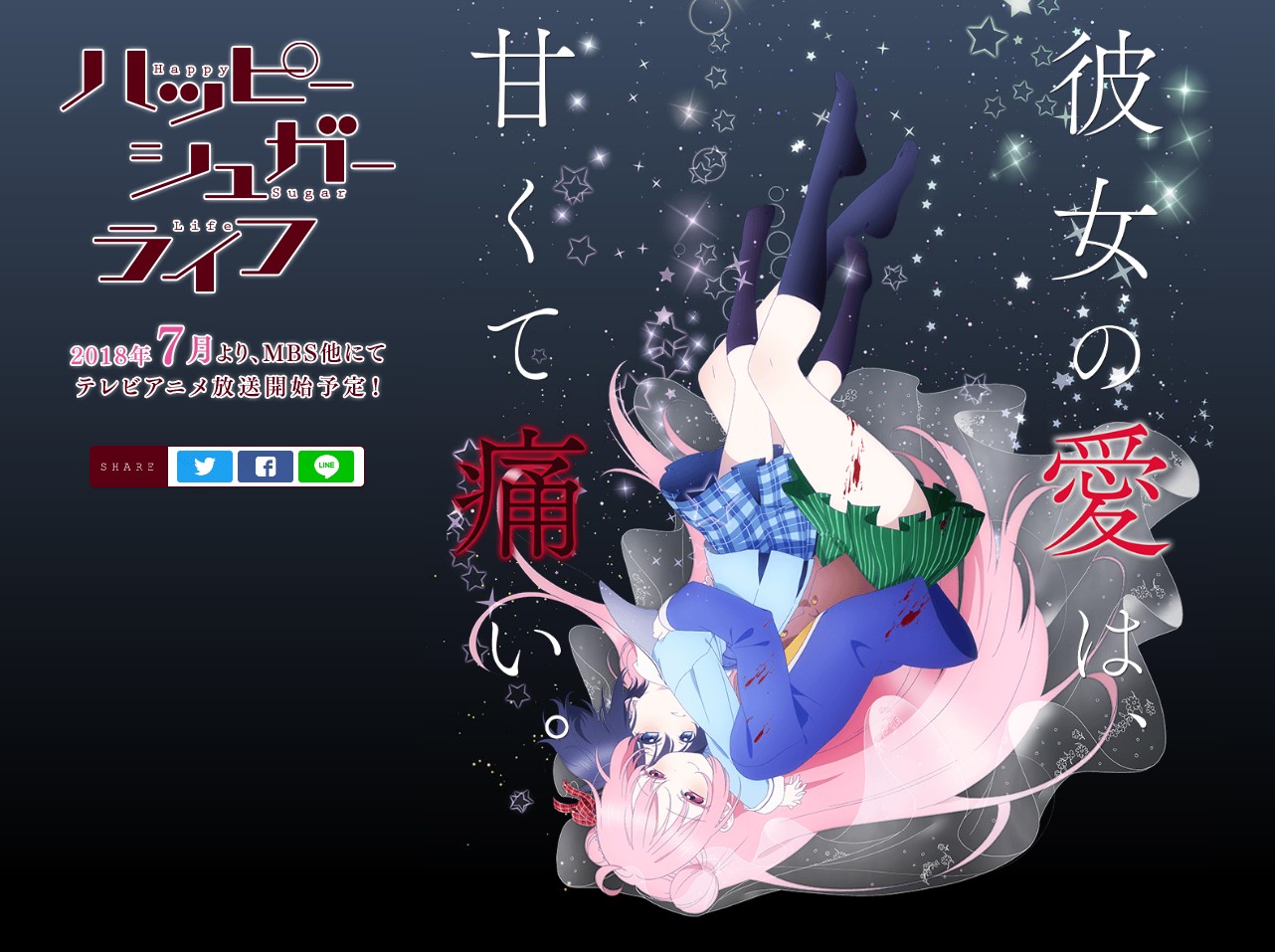 Happy Sugar Life
This is a shivering pure love psycho horror story of a girl named Satou Matsuzaka who has a sweet feeling which she thought it must be love or is it!
Tenrou: Sirius the Jaeger
Another vampire and werewolves themed anime which I'm keen to see how this one will play out.
The series takes place in the Imperial Capital of 1930 where a group of people known as "Jaegers" hunt vampires while carrying musical instrument cases~
Hataraku Saibou (TV)
This is a story about the inside of your body... According to a new study the human body consists of approximately 37 trillion cells. These cells are hard at work every day within a world that is your body. From the oxygen-carrying red blood cells to the bacteria-fighting white blood cells, get to know the unsung heroes and the drama that unfolds inside of you! It's the oddly relatable and interesting story that is the life of cells! I'm super keen to watch this anime to see how our body cells would react to different scenarios! I hope its hilarious too!
Now I know I just listed a whole bunch of anime series that will be coming out this summer season...but we can't forget about the anime movies!!
First one on my list is
Boku no Hero Academia The Movie: Futari no Hero! There is currently no summary or further information of what the movie will be about but it will feature an original story and show the previously unrevealed past of a certain character! i absolutely love this anime series and glad my friend told me to watch it! BNHA FTW!
Another movie that I may watch is the Nanatsu no Taizai Movie: Tenkuu no Torawarebito. The Seven Deadly Sins travel to a remote land in search of the phantom ingredient "sky fish." Meliodas and Hawk end up at a "Sky Palace" that exists above the clouds, where all the residents have wings. Meliodas is mistaken for a boy who committed a crime and is thrown in prison. Meanwhile the residents are preparing a ceremony for defense against a ferocious beast that awakens once every 3,000 years. But the Six Knights of Black, a Demon Clan army, arrives and removes the seal on the beast in order to threaten the lives of the residents of Sky Palace. Meliodas and his allies meet the Six Knights of Black in battle.
The last movie coming out this summer is Kimi no Suizou wo Tabetai. This movie is when a
a high schooler find a paperback in the hospital, titled the "Disease Coexistence Journal". It was a diary that belonging to Sakura Yamauchi who had written in her secrets. Inside, it was written that due to her pancreatic disease her days were numbered. And thus, I coincidentally went from Just-a-Classmate to a Secret-Knowing-Classmate. It sounds similar to many other sad love stories so will be interesting to see how different this one will be.
So...yeah that's all of the ones that are piking my interest at this time but. Who knows how many of these I'll actually watch but I will keep you all up to date either on my blog or youtube channel!